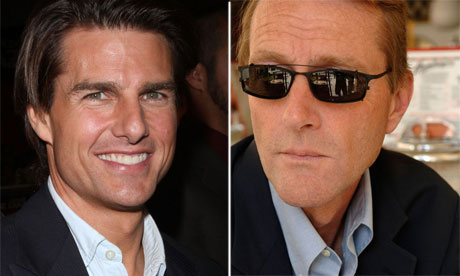 Tom Cruise takes a shot at Jack Reacher | Film | guardian.co.uk
: "baddies with nothing but the clothes on his back and the wallet in his pocket. Who better to play Jack Reacher, the hero of Lee Child's series of bestsellers, than Tom Cruise: 5ft 7in, pushing 50, prone to emotional outbursts and regular flashes of gnashers."
Well, size isn't everything. How often have men said that? But Cruise as Reacher?
Initially I'd say it is a stretch. It's an odd one too. Cruise, for all his box office weight, feels like a star on the wane. Reacher is a character in full bloom. One that ought really have been turned into Hollywood gold years ago but somehow wasn't. It seems a strange fit now.
When I think of Reacher I actually think more Daniel Craig than Tom Cruise. Craig of course is playing another heartless killer called James Bond, so that's a non starter. Can Cruise carry the menace needed to bring Reacher to life? He has the potential, the question for the film makers is whether the audience will accept him in such a role.
Not that Lee Child should be too worried either way. With 15 books published and 40 million sales the fact that Cruise is playing Reacher is more of a boost to Cruise's career than it is to Child's. And who would bet on other film adaptations in the future with different actors assuming the lead role? I know I wouldn't.